Summer City outfit for Boys and Girls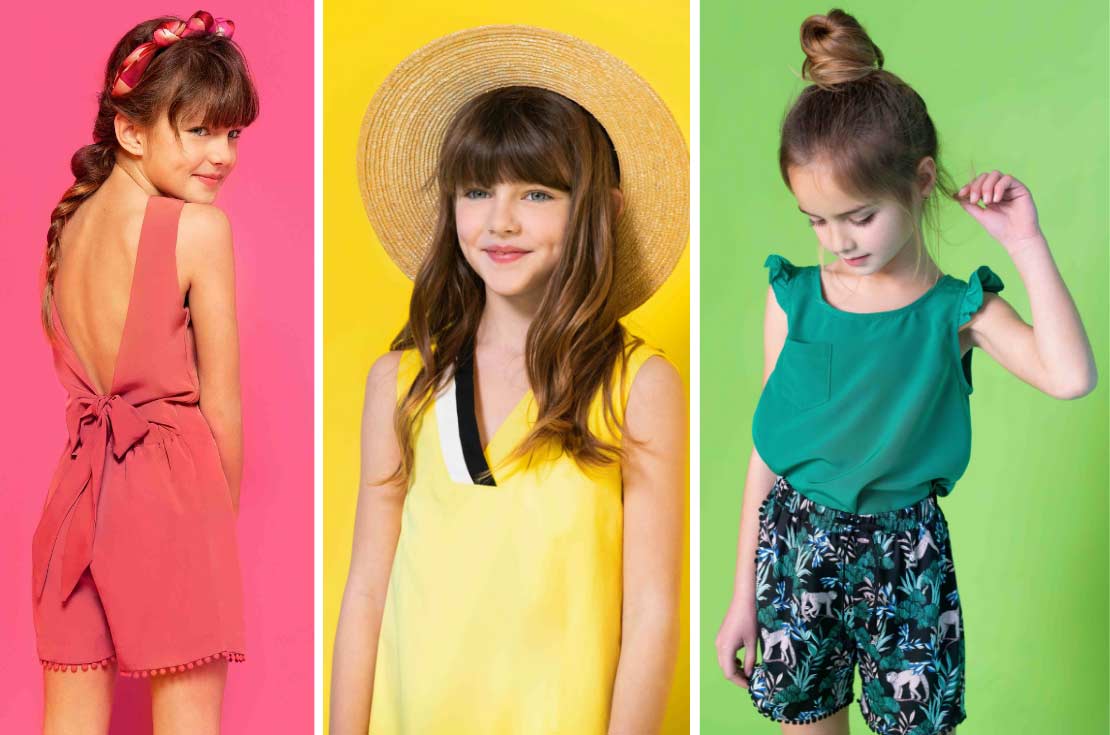 Boy and Girl summer outfits perfect for the city. A balanced mix of practicality and style, built with quality garments chosen from the most exclusive fashion collections dedicated to children and teenagers.
Let's start with some proposals dedicated to the girl; (1) iconic straw hat "ciao mamma" signed Leontine Vintage. (2) Exclusive pink short jump suit in Yellowsub signed fabric, pretty (3) heart-shaped bag made of straw and (4) colored headband both made of hand-woven palm straw by Leontine Vintage. (5) Iconic white vintage sneaker by Chipie.
(1) Emerald green top with pocket, (2) shorts with white and green striped pattern by Yellowsub, (3) beautiful round straw bag with handles and shoulder strap signed Tocotò Vintage.
Exclusive (1) blue t-shirt with sequin design combined with (2) grey shorts with elasticated waist and green sequins by American Outfitters; (3) ivory dress with embroidery and lurex details by American Outfitters combined with the iconic (4) vintage pink sneaker by Chipie. Versatile (5) t-shirt with gold polka dots by American Outfitters combined with (6) denim shorts with a delavè effect by Yellowsub.
We could not forget an outfit dedicated to boys. Beautiful (1) moss green short-sleeved shirt by Armani Junior combined with (2) w hite Bermuda shorts with an elastic waist by Officina51. Comfortable and roomy (3) backpack with logo print signed Diesel Kids, (5) iconic white baseball cap with logo, comfortable and versatile (4) khaki sneakers by Chipie, (6) UV protection sunglasses by See Concept (Izipizi) .
Stay Tuned!