Paio Crippa children's clothing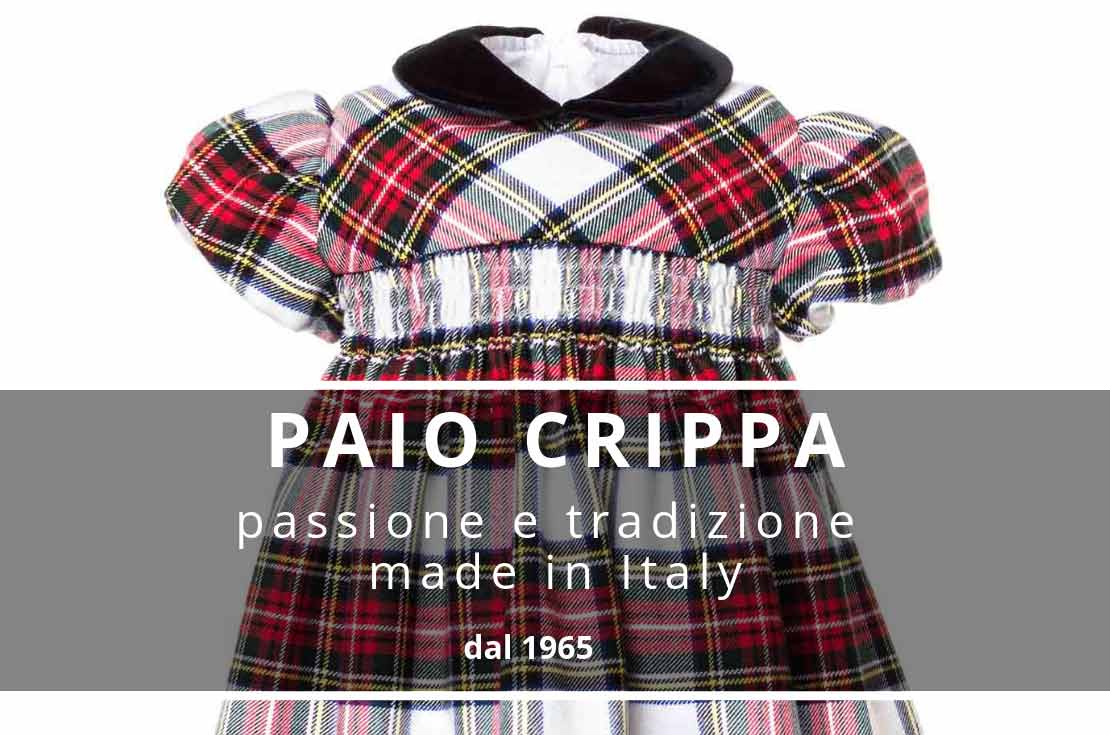 Paio Crippa, children's clothing born from an all-Italian passion. Combining elegance and practicality, easy to wear garments, beautiful and exclusive, classic but with a hint of novelty.
Paio Crippa was born in 1965 from the creative spirit of grandma Marisa. What was a small laboratory in Brianza has become, over the years, a productive reality of excellence for children's clothing.
Despite many things have changed, the passion for style, the enhancement of Made in Italy, the anticipation of trends have always been the strengths of Paio Crippa.
Attach a button, embroider the hem of a collar, cut a fabric respecting the design, sew a garment. All operations made by hand to ensure uniqueness and exclusivity to each product.
The skilful combination of the colors of the yarns guarantees a production of exclusive, unique and impeccable fabrics. The Scottish spirit has always shaped the company's frames.
The squares and the Scots represent a strong identity of the children's collections. Contrasts of color and exclusive combinations, have made the Paio Crippa tartan famous. The production of Scottish, pied de poule, squared and united Shetland, is made directly on looms owned by the company. It is therefore essential to select the yarns, all strictly of Italian origin.
The collections of clothing for children and teenagers signed by Paio Crippa are suitable for many occasions. Suits, shirts, skirts, trousers that can therefore be easily combined for a sober, practical and always up-to-date style. Each garment expresses beauty, charm and is characterized above all by a perfect wear ability.
Craftsmanship and tailoring processes are monitored in every single phase, from cutting to ironing to packaging. All this to guarantee impeccable garments, with unequalled wear ability and comfort.
Paio Crippa is a concrete example of our Made in Italy, recognized and appreciated all over the world!
Discover our  Paio Crippa selection in the Anna Meglio boutiques and on ANNAMEGLIO.com!
If your size is not available, no problem … we can order it directly from the company and send to you it within a few days!