MOLO absolute novelty of the Annameglio season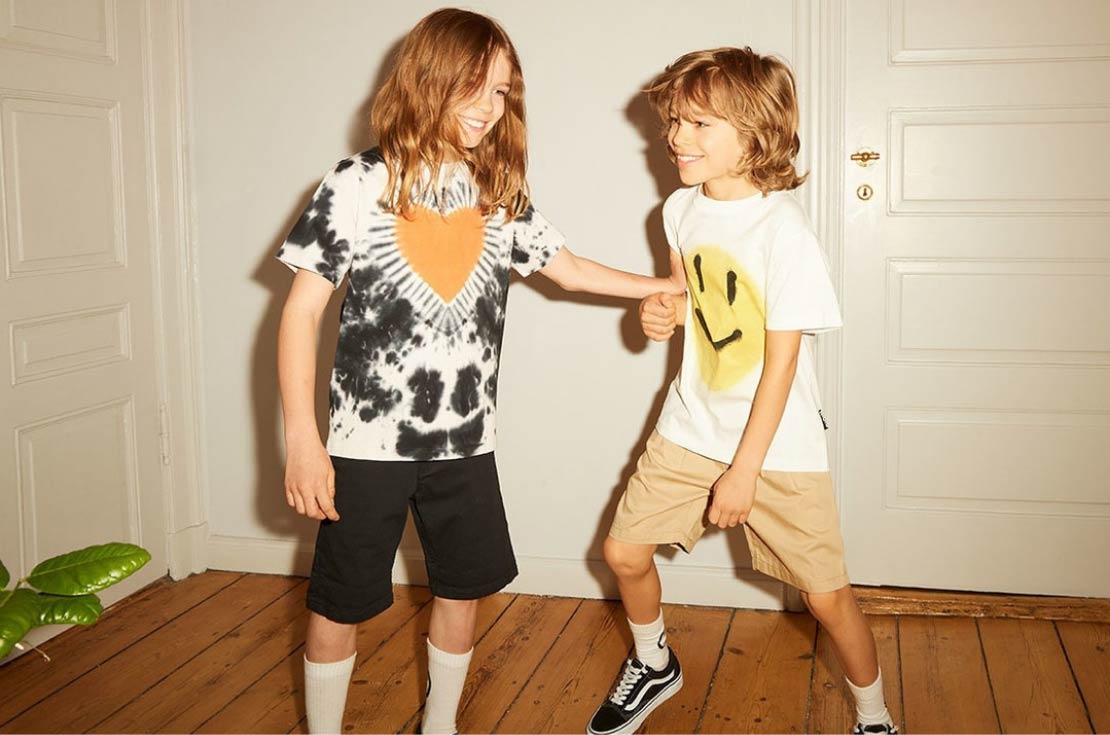 Vitamin colours and vibrant prints! A captivating mix of bold clothes and accessories for children and teenagers.
The brand Molo was born in Denmark with the desire to revolutionize the existing child fashion and create vibrant and colorful collections. All Molo products are designed to accompany the creativity of the child through joyful and extravagant proposals. Molo creates a fashion suitable for everyday life, which allows the child to have ample freedom of movement and maximum comfort. The urban style Molo, a great success among young people is becoming a real must have. 
Molo and sustainability
Molo has always been attentive to the theme of sustainability, supporting ecological fashion. The brand is certified GOTS (Global Organic Texile Standard), with this term refers to an international standard that allows the production of textile products respecting the environment and social rights. The garments are made with certified organic materials and meet very strict standards for the entire production process, ensuring the absence of chemicals harmful to children.
Urban Street style
Tie dye patterns, wild and urban street prints, are the must-have trends of the spring summer season signed by Molo Kids. A collection full of eccentric proposals! Discover our selection for this incredible brand!
Underground atmosphere
The Mattis sweatshirt is a long-sleeved model characterized by "Print Work" lettering, a comfortable and informal piece of clothing. Made of soft jersey of pure organic cotton, ensures a perfect fit. Equipped with GOTS certification is available in sizes Junior and Teen from 8 to 16 years.
Patterns Tie-dye
Children's fashion says goodbye to gray and welcomes psychedelic prints with a vintage flavor. The tie-dye patterns are the real protagonists of this season! The T-Shirt Roxo Multi Happy is a classic crew neck t-shirt with short sleeves and regular fit, characterized by multicolor tie-dye pattern with Smile detail printed on the front. The garment is made of soft jersey of pure organic cotton and ensures a perfect fit. Equipped with GOTS certificate, it is available in Junior and Teen sizes from 8 to 16 years.
Vibrant prints
Bright and colorful prints that fill with joy just looking at them! The Mika sweatshirt in the Grape wine version is a versatile and lively garment suitable for everyday life; it is characterized by a regular fit cut, with round neckline and yellow Smile detail. The sweatshirt is GOTS certified and is available in Junior and Teen sizes from 10 to 14 years.
Teen look
The Anika pants is a loose fit model with a wide cut, made of soft gabardine of pure cotton. Thanks to its perfect fit it is suitable for any occasion, for a casual chic look. The trousers are available in Junior and Teen sizes from 12 to 16 years.
Bold dresses for young girls and teenagers
Bright colors and trendy models for a spring to live in full Molo style. For all girls the brand designs light and fluffy clothes. The Chloey dress is a model with one-shoulder top, wide skirt with soft pleats, made of pure organic cotton. Certified GOTS is available in Junior and Teen sizes from 6 to 14 years.
For this season Molo has created many different alternatives, suitable for every personality. The Cissa dress is a bold and fun wild mania proposal. Slightly different from the previous model, it features a short sleeved top with striped pattern, wide skirt with Jungle prints distributed all-over, made of pure organic cotton, is available in Junior and Teen sizes from 6 to 10 years.
The Cloudia dress in blue, is characterized by sleeveless top with ruffles applications and round neckline, wide skirt to wheel that ensures maximum comfort. It's perfect for a casual look or a special occasion. Available in Junior and Teen sizes from 2 to 14 years.
Swimsuits not to be missed
The brand also thinks of summer, proposing a line of swimsuits with vibrant patterns and cuts of all kinds, which make every child unique. All swimsuits have a UV protection of 50+ and are made of recycled polyester fabrics REPREVE, the leading material in the field of recyclable fibers, made with plastic bottles and other waste. A sustainable choice, of great impact. The animalier swimsuit is a model Neve Blue Jaguar, cut bodysuit with wide straps that cross on the back. It's available in Junior and Teen sizes from 10 to 16 years.
The Spring/Summer 22 Molo collection, absolute novelty of this season, is waiting for you in our Store or on Annameglio.com with many funny garments and accessories. Choose only the best for your child. Do you want more information about the Molo collections? Your favorite item is no longer available online? No problem! Write to customercare@annameglio.com or contact our customer service at 3711331620 (also Whatsapp).